Add New Server
To add a new server, open the server overview page and click on the plus icon at the bottom. After that, two options are offered:

Select the appropriate option, then you will see the following dialog: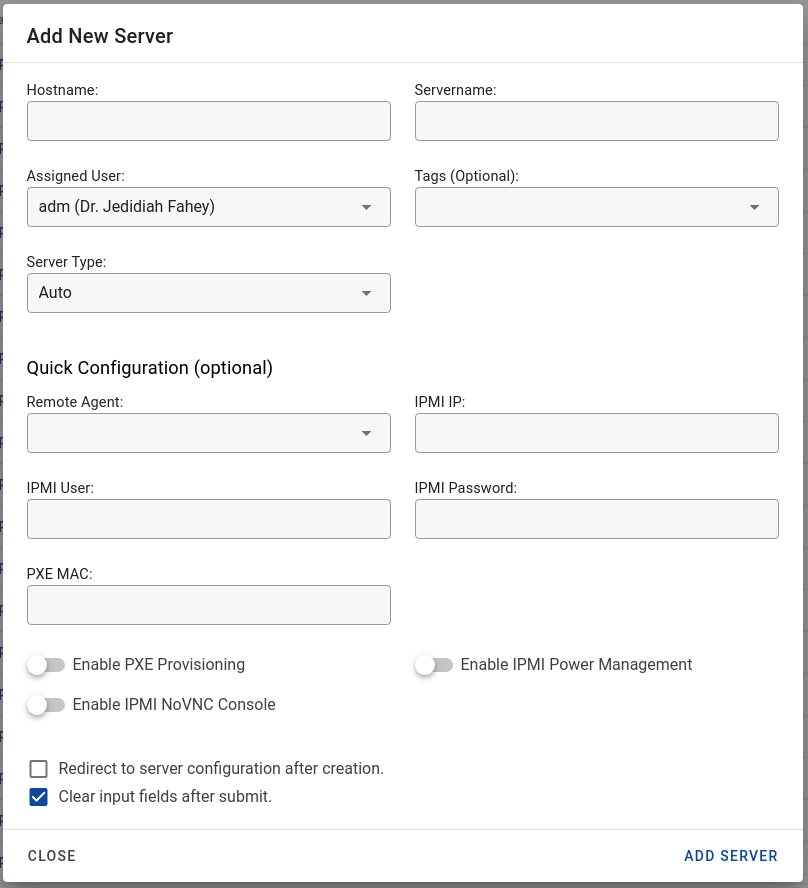 No quick connection assignment is possible for virtual servers. Instead, your VPS plans are offered for selection, which already contains the connection assignments.
Quick Configuration
Quick configuration allows you to add connections to the server directly during creation. This is especially useful if you want to add many servers and the data differs only slightly (e.g. incremental IPMI IP). The offered fields are self-explanatory.
Servers from external providers (OVH, etc.) currently do not support quick configuration. You have to assign this connection on the configuration page of the server.
More information about connection assignments can be found here.
Add existing servers
It is possible to add existing servers to Tenantos seamlessly, without causing a power cycle, reinstallation, or any other alteration to their current state.
Dedicated Servers
When adding a new server, the quick configuration form can be used to add commonly used connection assignments, such as DHCP and PXE, in one go. Additional connections can subsequently be added on the details page of the server. More information about the connection assignments is available here.
External Providers
The procedure for external providers, such as OVH, Hetzner, Proxmox, or VMware, is described on this page.